Experts Wrong About Back Pain
Experts Wrong About Back Pain

Most People Get Wrong Care
Denver chiropractor, Steven Visentin is proving most back pain is unnecessary and disappears when you stop doing the wrong things to care for yourself.  If you have back pain or sciatica, read this article carefully and discover the biggest mistakes people make when treating back pain.  If you're suffering, it may be because you've been taught the wrong things to do.
---
Are You Still Doing Straight Leg Raises?
Straight leg raises are probably the worst thing you can do for your low back.  Even though you were taught this by a doctor or therapist, it may be hurting you.
---
Are you taking Advil or Ibuprophen, etc. for back pain?
There are better ways to care for your back.  These medications slow down healing.  Just because something feels good, does not mean it's good for you.
---
Big Mistakes People Make
Heating pads are one of the worst things you can do to your low back.  Electrical currents close to your body are never a good idea.  Heating pads tend to pool fluids deep in the spine and aggravate back pain.
---
Back Pain Experts Proven Wrong!
The Internet, doctors, and therapists share outdated ideas about care for back pain, like;
"Rest, lay in bed!" This is an old idea that makes back pain worse.
"Wait, we're going to monitor your condition." This usually means; "we're going to wait till it gets so bad you need surgery".  Don't become a victim of needless surgery.
---
Is There Hope For You?
Even if you've been to other doctors, had lots of tests and wasted a lot of money and time, your body can heal itself.  If you get proper care for your back and avoid activities and treatments that slow down healing, you could recover.  Don't give up! With the right program, you could get back to leading an active life again.
If you're ready for a different kind of program that works with your body's natural self-healing qualities, give Dr. Visentin a call.  He's helped 1,000's of Denver and Aurora Colorado residents avoid drugs, surgery and time consuming physical therapy.
Still skeptical, read what people are saying online.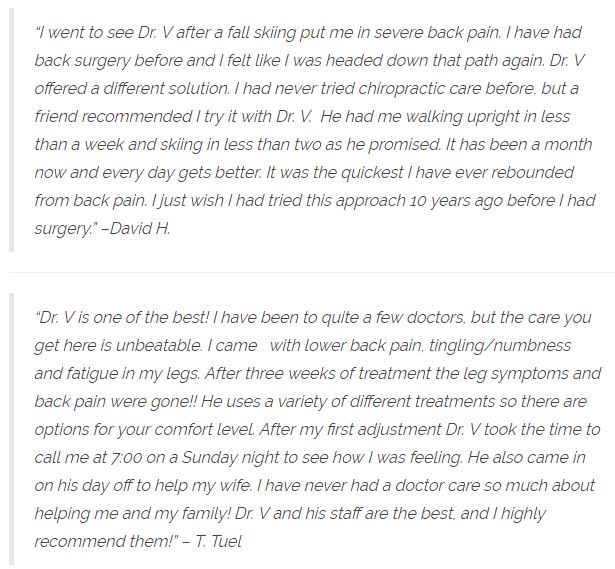 Obviously Dr. Visentin can't help everyone reading this article but if you call now you can receive; a professional spinal analysis FREE, thorough history FREE, therapeutic massage table FREE, and diagnosis FREE! (X-rays and adjustments not included).
Live Pain Free
Call: (303) 394-2273
P.S. If you don't feel coming to us exceeded your expectations, then your first visit is no charge.
CareChiropractic
1411 Krameria Street
Denver, CO 80220
(303) 394-2273
www.carechiropractic.com
©2019
OFFICE HOURS
---
Monday
10:00am - 12:00pm
2:00pm - 6:00pm
---
Tuesday
Closesd
---
Wednesday
10:00am - 12:00pm
2:00pm - 6:00pm
---
Thursday
Closed
---
Friday
10:00am - 12:00pm
2:00pm - 6:00pm
---
Saturday
Closed