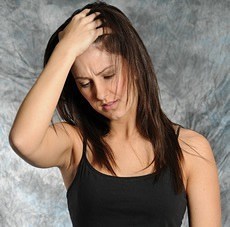 How Does This Happen?
Psychologists recognize various factors in the cause of depression, including illnesses, genetic predisposition, trauma, loss of a loved one, stressful situations and commonly prescribed medicines.
What Can I do To Help Myself?
Freedom from depression is difficult but not impossible. Here's a list of activities that can provide relief;
call a friend or family member,
go out and socialize,
exercise daily whether you feel like it or not,
avoid junk food,
allow time to rest and recover,
help someone who cannot repay you,
seek out a clergy member or counselor from your faith,
get sunlight daily if possible,
practice a form of prayer or meditation at least daily,
get out in nature,
write in a journal,
see a funny movie,
listen to music,
take a hot bath, and
play with a child or pet.
It's Still Bothering Me, Now What?
Scientists and doctors now recognize the "mind-body" connection. How you think is directly related to how well your body functions. Your doctor of chiropractic can relieve the common aches and pains that accompany depression and restore the critical internal balance associated with carefree mental states.
If you're wondering how this might work for you or have any questions, pick up the phone. Getting out of a deep rut takes action. The longer you hesitate, the more difficult your road to wellness may be. Call our center even if you just need a kind ear to listen to your problems.
OFFICE HOURS
For Qualified Patients Only
---
Monday
10:00am - 12:00pm
2:00pm - 6:00pm
---
Tuesday
2:00pm - 6:00pm
---
Wednesday
10:00am - 12:00pm
2:00pm - 6:00pm
---
Thursday
2:00pm - 6:00pm
---
Friday
10:00am - 12:00pm
2:00pm - 6:00pm
---
Saturday
Closed